How to choose Golden-Switch tip over switch?
18-02-2019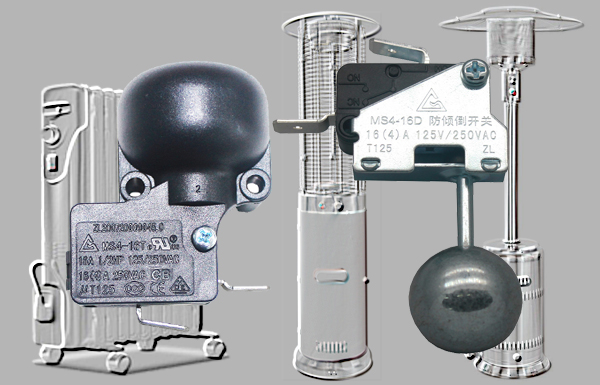 Have you seen the anti-tip switch? It can be said that many appliances and equipment that need to be dumped will use the anti-tip switch. The anti-tip switch protects the appliance when the appliance is dumped, and not only does it solve the accidents that occur after the appliance is dumped from the root cause.
In fact, many of the electrical appliances & equipments around us have used dump switches, such as electric fans used in the summer, vertical air conditioning. Electric heaters used in winter, oil coolers, and air purifiers, gas heater, propane heater, electric heater...... Aha, feels so warm! But how to choose various tip over switches to match different heaters for safety?
As you know, anti-dumping switches include mechanical, electronic, photoelectric, etc. Our anti-dumping switches are mechanical, high reliability and long life. Mechanical tip over switches have 2 kind popular contact types: NO & NC. It should be decided by your designer.
There are 2 kind main contact points: silver & gold. Silver or gold contact points? It depends on application circumstance. If the heaters are gas & propane type or circumstance is corrossive, gold contact point is suitable; Else Golden-Switch suggests to choose silver contactor to save cost.